The Night Sky, The Forgotten Nature: Uncovering the Impact of One Television Programme on Astronomy Communication in Iran
In 2001, two brothers known as the Saffarianpour brothers started a television programme on Iranian state television called Aseman-e-shab (The Night Sky).
The programme, which explores astronomy and space science, became one of t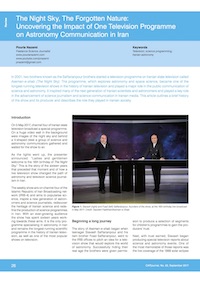 he longest-running television shows in the history of Iranian television and played a major role in the public communication of science and astronomy. It inspired many of the next generation of Iranian scientists and astronomers and played a key role in the advancement of science journalism and science communication in Iranian media. This article outlines a brief history of the show and its producer and describes the role they played in Iranian society.
Here is my review of this program which published in CAPJournal. You can download it from here.